Review Asustor AS6104T NAS
ASUSTOR AS6104T is equipped with 4K ultra high definition multimedia playback functionality along with S/PDIF fiber optic audio output and an HDMI 1.4b port. This provides you with unmatched viewing clarity and crystal clear sound as you enjoy digital entertainment that is a cut above the ordinary. A professional grade NAS also needs a variety of hardware expansion possibilities.
Asustor AS6104T is equipped with the latest generation Intel Celeron (Braswell) quad-core processor along with 2GB of dual-channel memory. It features read and write speeds of over 223.64 MB/s and 219.99 MB/s under RAID 1 configurations and 223 MB/s and 219 MB/s under Link Aggregation (RAID 5).
Asustor AS6104T has built USB 3.0, USB 2.0, eSATA, and gigabit Ethernet ports into the NAS allowing it to connect with a variety of different external devices, giving you the power to enjoy the convenience of a multifunctional all-in-one device that is perfect for your digital lifestyle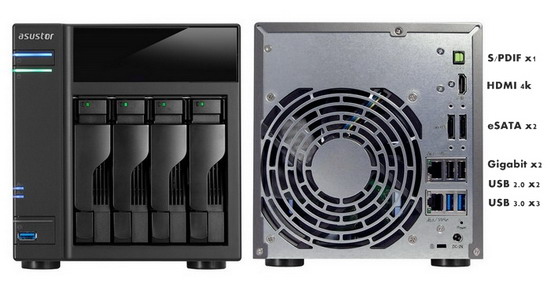 ADM allows you to customize the sign in page style and images giving your NAS a unique look. Furthermore, an additional variety of customizable options help you to create a truly personalized NAS.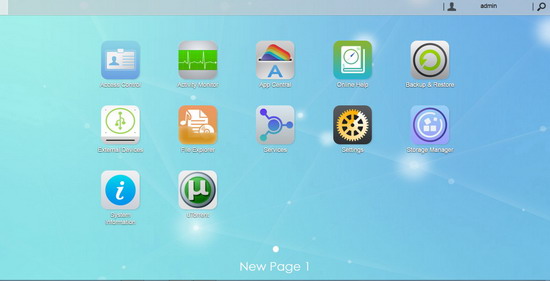 ADM allows you to configure user- and group accounts, set domain users and groups, manage shared folders, and set application privileges. You can also set user access rights to various applications for individuals or groups here.

ADM's exclusive App Central App repository contains countless surprises. Install a variety of unique Apps for free with just a single mouse click. The applications that come pre-installed with each ASUSTOR NAS device are just the beginning. At your convenience, you can browse through and download any applications that peak your interest from App Central. App Central allows you to explore the unlimited potential of ASUSTOR NAS devices while creating a personalized NAS device for yourself.
Cloud Connect can be done at Ease of Access. This feature allows you to apply for a free hostname of myasustor.com (e.g. xxxxx.myasustor.com) and will also forward the necessary ports on your router for you. If you don't want to apply for the free DDNS service from ASUSTOR, you may just go to EZ-Router where it can do auto port-forwarding for you without going through your router setup page.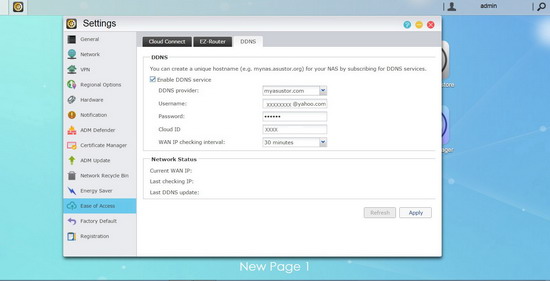 In Conclusion, Asustor AS6104T is a very good product, it performs well and very multimedia. You can enjoy locally stored media files on a 1080p or 4K TV with HDMI and S/PDIF ports. You can download lots of apps from App Central include Avast Antivirus, Download Center (an FTP and Torrent download manager), iTunes Server, LooksGood (a video player and streamer), SoundsGood (a music player and streamer), Surveillance Center (a DVR for security cameras), and a VPN server. In my viewpoint, it's an excellent choice if you're a first-time NAS buyer.
For more information please contact us NAS-Thailand.com